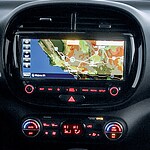 Nothing is more important when driving than keeping your most precious cargo safe and secure. That's why Kia has taken advantage of the very latest in safety advancements through technology to bring the new Kia Soul to the highest standards.
We've all been there: you didn't see that car in your blind spot or underestimated the distance between cars when parking. Why not let the technology assist you? The new Kia Soul comes with Rear View Monitor with Parking Guidance. This system uses adjustable guidelines to help you back out and park in tight spots. The very basics of safety have not been forgotten with the Kia Soul. Our engineers used an Iso-Structure for the frame made out of high-performing steel for optimum safety.
It's easy to see that no corners were cut when it comes to the new Kia Soul. Every detail has been meticulously crafted to keep you and your loved ones safe and sound.