New 2022 Kia Niro EV and Plug-In Hybrid SUVs for Sale or Lease

New Kia Niro EV for Sale in Shrewsbury
The crossover vehicle has come a long way since its inception years ago. The new Kia Niro EV is looking to revolutionize the segment in more ways than one. Kia added electrification to this model to make it even more efficient. The Kia Niro EV will even offer cutting-edge innovation that's easily useable. Buyers will get the privileges of a first-class automobile wrapped in a sporty package. We welcome you to visit Wagner Kia of Shrewsbury to learn more about the Kia Niro EV and to explore our lineup of new Kia vehicles for sale. Interested buyers can choose from two available Kia Niro EV trims, the EX and EX Premium.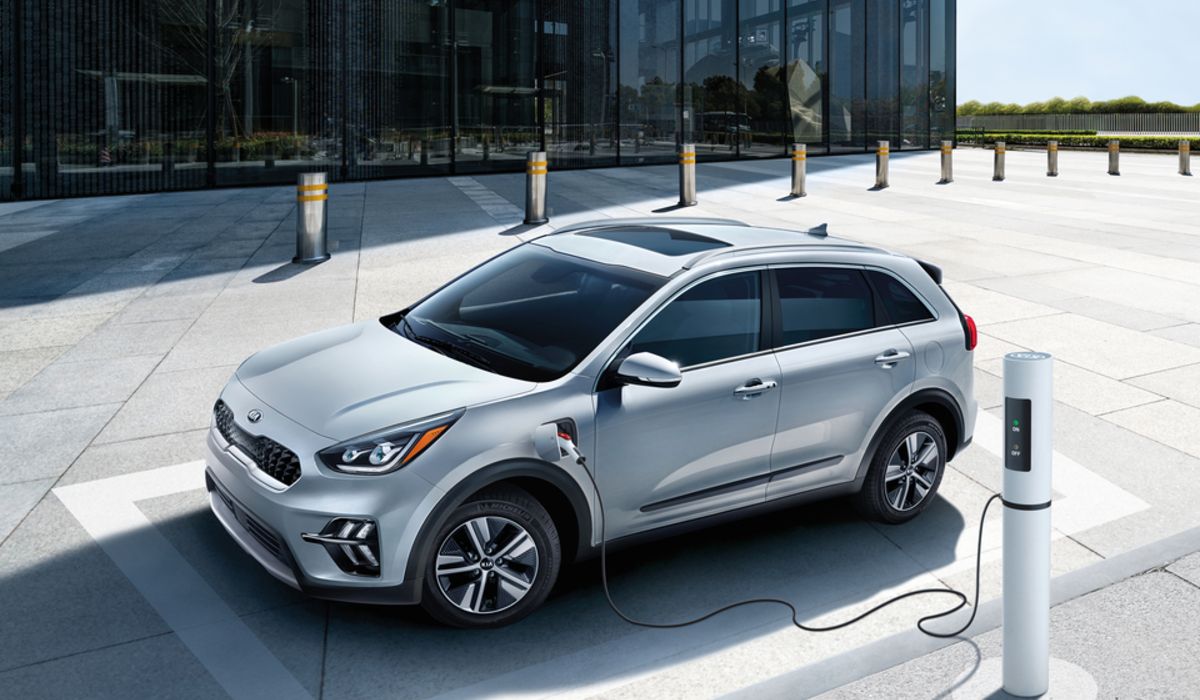 Performance
The new 2022 Kia Niro EV will perform smoothly and efficiently on the highway. This Kia crossover will come equipped with an electric drivetrain that produces instant power. Drivers will have full access to 291 pound-feet of torque and 201 horsepower for adventures around Worcester. A Sport mode makes the drivetrain more responsive. Thanks to the vehicle's 64-kilowatt battery packs, you should be able to drive the Kia Niro EV for up to 293 miles. The power extends even more with the production of kinetic energy. Whenever the brakes engage, the batteries can self-charge. Getting into the right gear isn't hard, as the Kia Niro EV will come equipped with a rotary shifter. DC fast charging is also available to get you going in the fastest amount of time.
Exterior
The outer appearance of the new Kia Niro EV is easy on the eyes. This electric crossover sports an aerodynamic design that possesses striking dimensions. Smooth lines travel across the body in a fluid motion. The door panels have nice contours, and the hood of this crossover appears nicely sculpted. Modern LEDs also appear carved into the frame at the front and rear.
Interior
The interior of the new Kia Niro EV is clutter-free and handsomely styled to the highest degree. Up to five individuals can sit in the cabin on soft-touch materials. The interior includes SynTex material and fine cloth. Depending on your trim choice, this crossover could come with all-weather features, such as heated and ventilated seats. You can even fit up to six carry-on suitcases behind the rear seats. The rear seats have a 60/40 split-fold function. In total, the new Niro EV will provide as much as 53 cubic feet of cargo space.
Your passengers can enjoy stunning views with the vehicle's panoramic sunroof, which is available for the EX Premium trim. This Kia Niro EV trim also offers door scuff plates. The new Niro EV has a high seating position for the driver, which will provide a better view of the roads around Westborough. Additionally, extra comfort is possible via the heated steering wheel.
Tech & Other Features
The new Niro EV from Kia goes even further by offering tech advancements that you and your passengers can enjoy while you drive around Boston. The vehicle's command center is in the center dash via a 10.25-inch multimedia display. Split-screen capability is available while hosting several apps. The navigation system will even respond to voice commands. A hands-free function is onboard via Bluetooth connectivity, and buyers will have access to wireless charging. The crossover's driver-assistance features appear designed for preventive safety.
More information is available at our Shrewsbury Kia dealership. We look forward to setting you up for a Kia Niro EV test drive at your earliest convenience.
Standard automatic high-beams
Standard lane-keeping assist
Available adaptive cruise control with stop and go technology
Available blind-spot monitoring with rear cross-traffic alert
Available forward-collision warning and automated emergency braking, and more
What is the Difference Between the Hybrid and Plug-In Hybrid Powertrain?
Now that you know more about the 2022 Kia Niro, the hardest part will be choosing between its hybrid and plug-in hybrid powertrains. But what exactly is the difference? Both powertrains are good for the environment and provide you with excellent savings at the pump.
The main difference between a hybrid and a plug-in hybrid powertrain is that a hybrid vehicle runs on a gasoline engine in conjunction with an electric motor concurrently, meaning that the automobile gets its power from these two sources at the same time.
On the other hand, a plug-in hybrid works solely on its electric motor and won't touch the gasoline engine until it's necessary. As long as you keep charging it, your plug-in hybrid will continue using purely electric energy. As mentioned above, the 2021 Kia Niro Plug-In Hybrid provides you with a whopping 26 miles of solely electric range before dipping into its gas tank.
Why Buy the 2022 Kia Niro Hybrid or Plug-In Hybrid?
Besides the obvious reasons to own a hybrid or plug-in hybrid vehicle, such as huge gas savings and bettering our environment by reducing CO2 emissions, there are also many monetary benefits to owning a green vehicle.
One of these benefits includes federal tax reductions. Owners of the 2022 Kia Niro Plug-In Hybrid, for example, are eligible for a federal tax credit of $4543.
Whether you choose the 2022 Kia Niro in a hybrid or plug-in hybrid powertrain, our expert finance professionals will find the leasing or finance option that best accommodates your wallet. You are welcome to accelerate the finance process by completing our online finance application, and don't forget to take advantage of our rotating specials.