INITIAL QUALITY. LASTING SATISFACTION.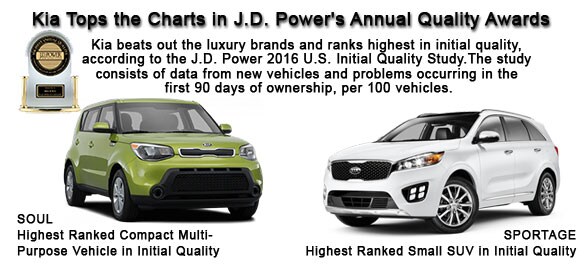 Kia keeps motoring on with the accolades, this time being honored as the first non-premium brand to lead the pack in initial quality rankings for 2016 in 27 years. The study concludes that Kia owners report fewer issues with their vehicles within the first 90 days of ownership than all other car and truck brands in the U.S.
Best in segment:
The 2016 Sportage (
view inventory
) grabs the top spot as the Best Small SUV, and the 2016 Soul (
view inventory
) comes in first as the Best Compact Multi-Purpose Vehicle.
"Ranking number one in the entire industry for initial quality is the result of Kia's decade-long focus on craftsmanship and continuous improvement..." said Michael Sprague, Chief Operating Officer and EVP of Kia Motors America. "As the highest ranked brand in the industry, there is no doubt Kia is a world-class automaker."
Come and 
visit us
 at Wagner Kia of Shrewsbury and see for yourself why Kia tops the charts!
See how satisfied Kia owners are in the video below: