New 2021 Kia Niro EV and Plug-In Hybrid SUVs for Sale or Lease

Experience the 2021 Niro Hybrid and Plug-In Hybrid at Wagner Kia of Shrewsbury
Are you wanting to jump on the green bandwagon? With hybrid and electric vehicles becoming more popular each day, few stand out from the crowd, like the 2021 Kia Niro. This subcompact crossover gas-electric model is not only better for the environment, but it also helps you save money on gas in a stylish way. Visit Wagner Kia of Shrewsbury and experience it yourself.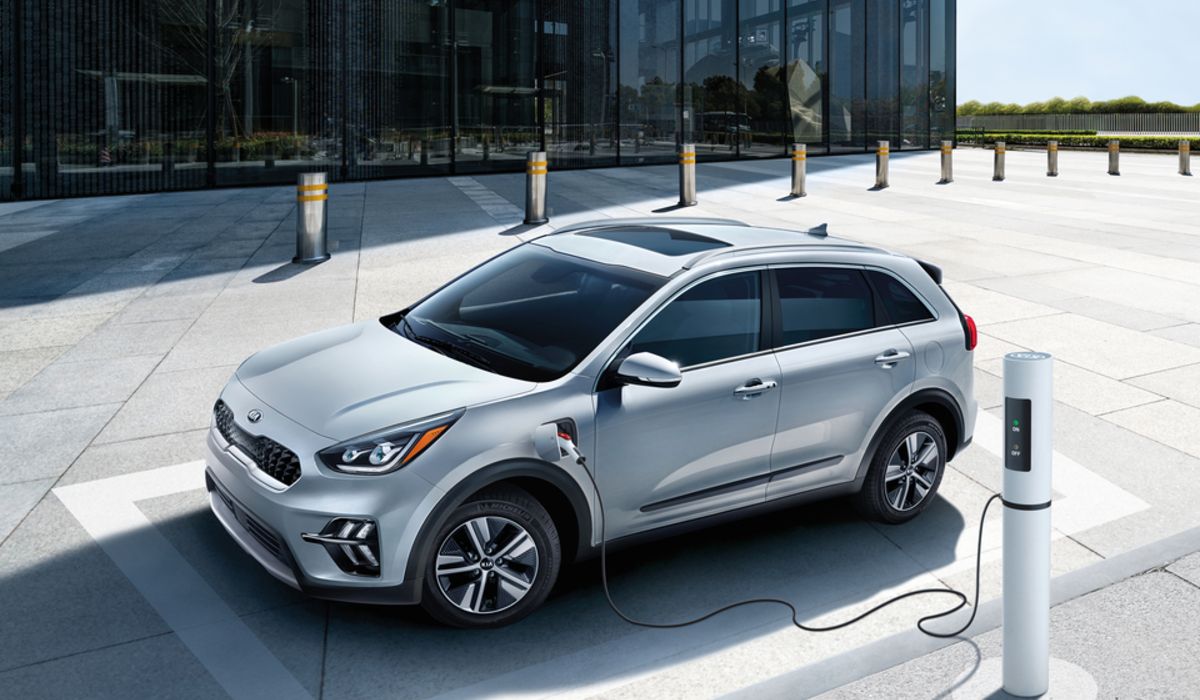 Performance
The 2021 Kia Niro is available in both hybrid and plug-in hybrid powertrains. Both engines deliver exceptional fuel efficiency and are perfect to drive around cities like Worcester. Both the hybrid and plug-in hybrid versions work on a 1.6-liter four-cylinder gasoline engine paired to an electric motor and a six-speed automatic transmission.
The plug-in version utilizes the same gasoline engine but operates with a bigger battery that will give you an astonishing 26 miles of purely electric performance for exceptional EV range. The Niro Hybrid delivers 139 horsepower and 195 pound-feet of torque.
Regardless of your powertrain option, the 2021 Kia Niro delivers a smooth and controlled handling for drivers in Westborough and surrounding areas.
Design
The exterior design of the 2021 Kia Niro is stylish and will have you turning heads in all of Boston. This compact SUV resembles a hatchback in shape and has a sporty demeanor.
Inside, you'll find a comfortable cabin with ample seating for five in available leather upholstery. The 2021 Kia Niro has plenty of storage available for you to safe-keep your belongings and plenty of space in its cargo area. With 19.4 cubic feet available behind its third row, you can fit plenty of luggage for your adventures outside Framingham and surrounding cities.
Technology
Whether you haul your family of five or you drive around with your friends, your passengers will be fully connected to the latest in technology. The 2021 Kia Niro comes equipped with standard Apple CarPlay and Android Auto and available wireless connectivity. There's also Bluetooth pairing and an available Harman Kardon audio system. A standard 8.0-inch touchscreen or an optional 10.3-inch adorn the center console where you also have access to an available navigation system that even helps you predict energy consumption.
Safety
The 2021 Kia Niro Hybrid and Plug-in models feature the latest in driver assistance aids. It comes with a standard rear occupant alert feature that reminds you that someone is in the back seat, which is very mindful and helpful for human and animal parents alike. Some other driver- assisting aids include:
Standard automatic high-beams
Standard lane-keeping assist
Available adaptive cruise control with stop and go technology
Available blind-spot monitoring with rear cross-traffic alert
Available forward-collision warning and automated emergency braking, and more
What is the Difference Between the Hybrid and Plug-In Hybrid Powertrain?
Now that you know more about the 2021 Kia Niro, the hardest part will be choosing between its hybrid and plug-in hybrid powertrains. But what exactly is the difference? Both powertrains are good for the environment and provide you with excellent savings at the pump.
The main difference between a hybrid and a plug-in hybrid powertrain is that a hybrid vehicle runs on a gasoline engine in conjunction with an electric motor concurrently, meaning that the automobile gets its power from these two sources at the same time.
On the other hand, a plug-in hybrid works solely on its electric motor and won't touch the gasoline engine until it's necessary. As long as you keep charging it, your plug-in hybrid will continue using purely electric energy. As mentioned above, the 2021 Kia Niro Plug-In Hybrid provides you with a whopping 26 miles of solely electric range before dipping into its gas tank.
Why Buy the 2021 Kia Niro Hybrid or Plug-In Hybrid?
Besides the obvious reasons to own a hybrid or plug-in hybrid vehicle, such as huge gas savings and bettering our environment by reducing CO2 emissions, there are also many monetary benefits to owning a green vehicle.
One of these benefits includes federal tax reductions. Owners of the 2021 Kia Niro Plug-In Hybrid, for example, are eligible for a federal tax credit of $4543.
Whether you choose the 2021 Kia Niro in a hybrid or plug-in hybrid powertrain, our expert finance professionals will find the leasing or finance option that best accommodates your wallet. You are welcome to accelerate the finance process by completing our online finance application, and don't forget to take advantage of our rotating specials.